All you need to know is I'm a die hard Banjo-Kazooie fan. I've been playing forever.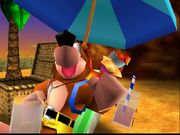 I own the games listed above. I played:
Banjo-Kazooie:
Twice, one was non 100 percent (when I was about 5) The other was when I replayed, years later, 100%
Banjo-Tooie
Twice, the N64 edition I played my heart out when I was about 6, I got to Hailfire Peaks, then I lost the game. I got the XBLA edition many years later and beat it. I finally found the Nintendo 64 Banjo-Tooie and then finished what I started. Neither times were 100% though, but they were both ALMOST 100%.
Grunty's Revenge
Finally gave it a try, and I must say, it's pretty cool. Not done with it yet.
Banjo-Pilot
Its ok, I guess.
Nuts & Bolts
Played a demo, and hated it. It's NOT a Banjo game.