Fungus Forest
Talk

1
861pages on
this wiki
Fungus Forest
Game
N/A (Banjo-Kazooie)
Theme
Moss Forest
Jiggies needed
N/A
Transformation
N/A
Fungus Forest was an unfinished world that was planned to be released in Banjo-Kazooie. Due to insufficient time to complete the game's development, Rareware did not feature the level in the game along with Mount Fire Eyes and three other mysterious levels. They instead reused the level in Donkey Kong 64 renaming it "Fungi Forest". There is a photo of Fungus Forest in Banjo's House, on the wall.
It is speculated that Fungus Forest's level entrance is the Click Clock Wood jigsaw puzzle area. This is because the area's trees are covered with moss and fungus and the jigsaw is so far away from its entrance.
The game has been hacked to search for the missing level but the only interesting resource found was a soundtrack named "Advent". It is thought to have supposed to have been the level's theme music. However, the track is, in fact, the theme for the Giant's Lair from Project Dream. The theme for Fungus Forest, as seen in an E3 video of early Banjo-Kazooie footage around 1997, shows Banjo and Kazooie swimming alongside what is thought to be the early version of Clanker (pictured below) in Fungus Forest; the music that accompanies this few seconds of footage is exactly the same as part of the Fungi Forest theme in Donkey Kong 64, thus proving that Advent was not intended for this world. In addition, when interviewed in Rare's Tepid Seat, Grant Kirkhope, the lead composer of the game, stated that Advent "was a tune that was supposed to be played on a map page in Dream but never got used in Banjo." It is unknown if Fungus Forest was even in Project Dream, but the Giant's Lair certainly was, again showing reason why 'Advent' was intended for it.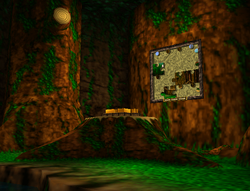 The picture of Fungus Forest can be seen in the intro to Banjo-Tooie in the intro scene, before Gruntilda blasts Banjo's House.
The floor textures in the Click Clock Wood puzzle room can be seen in Fungi Forest in Donkey Kong 64 but not in the actual Click Clock Wood level. This further backs up the fact that the puzzle room could have originally been the entrance to Fungus Forest.

Worlds from Banjo-Kazooie