The Banjo-Kazooie Wiki is a wiki that is based on the video game, Banjo-Kazooie. The wiki currently contains 885 factual articles and needs your help!
Overview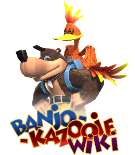 The wiki was created in August 2007 by Legodude760 and is in need of helpful editors. Our goal is to become and be a vast, reliable source of information and knowledge about Banjo-Kazooie and all it's sequels.
Ad blocker interference detected!
Wikia is a free-to-use site that makes money from advertising. We have a modified experience for viewers using ad blockers

Wikia is not accessible if you've made further modifications. Remove the custom ad blocker rule(s) and the page will load as expected.