Welcome to the Banjo-Kazooie Wiki!
We are currently working on 863 articles, and you can help.
Games | Characters | Enemies | Bosses | Locations | Items and Objects | Abilities | Transformations | Mini-Games | Secrets | Music | Affiliates | Wiki Tutorial
Welcome to the Banjo-Kazooie Wiki!
Hello there! If this is your first time here, start off by creating a new account for this wiki. It's free and easy to do!
If you already have an existing account here, then feel free to start contributing your knowledge to the wiki!
See an article we don't have yet? Create a new article here! Just type the name of the article in the box below:
Featured article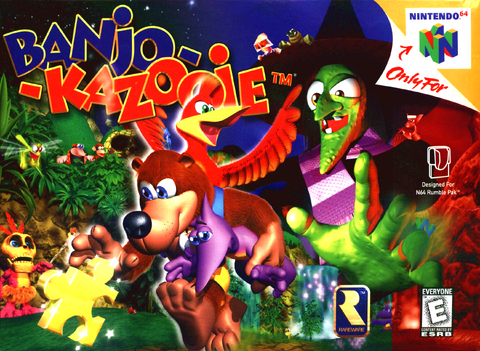 Banjo-Kazooie is the first game in the Banjo-Kazooie series. It was developed by Rareware and released in 1998 for the Nintendo 64. In this game, Banjo and his friend Kazooie must save Banjo's sister Tooty from the evil witch Gruntilda before she steals Tooty's beauty. The game was followed by a sequel called Banjo-Tooie in 2000.
The evil witch of Spiral Mountain, Gruntilda, is inside her lair, asking her cauldron Dingpot questions about who is the 'nicest and fairest of them all', to which Dingpot reluctantly answers, "You are, mistress". She gloats over her "beauty", until Dingpot finally breaks his 'silence' and tells the witch that Tooty, another inhabitant of Spiral Mountain, is actually the prettiest and the fairest of them all. Grunty reacts angrily and decides to kidnap Tooty in order to steal her beauty. She grabs her broom and sets off immediately.
Featured media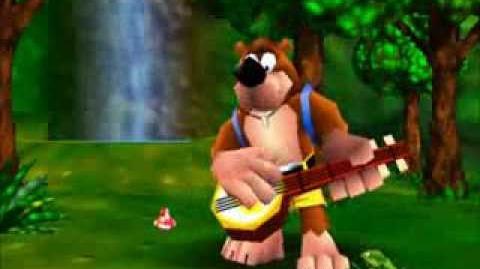 Helping out
Not sure where to start?
Adding content
Talk and more...
Check out the community portal to see what the community is working on, to give feedback or just to say hi.
Gruntilda Says:
"Long of tooth and strong of arm, Grunty's got the lasting charm!"
Wiki Poll
Please vote!
<poll> What is your favorite color Jinjo in the Banjo-Kazooie series? Purple Blue Green Orange Red Yellow White Brown Black Grey </poll> Vote on other polls at the Poll History.
Submit your poll ideas on the Poll Suggestions Page.